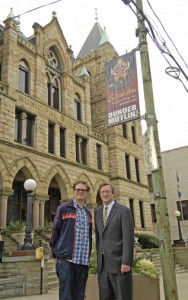 As published in a 2006 edition of The Northeast Pennsylvania Business Journal
–
A huge proponent of Scranton's potential and the man behind much of the downtown's rebirth, developer Albert Boscov recently challenged The Mall at Steamtown's executive team to create the most unforgettable holiday season ever, to bring in talent who would attract mall shoppers while generating enthusiasm in the community at large.
James M. Walsh, Vice President of Property Management for Prizm Asset Management Company (managing agent of The Mall at Steamtown), says "The cast of The Office enjoys a huge local popularity and Dwight Shrute is one of the show's most interesting characters. Bringing Rainn Wilson to town is an opportunity for The Mall at Steamtown to support that following and give back to our community."
Local businesses mentioned on the series now find themselves the object of national attention: Pennsylvania Paper & Supply Company, Paper Magic Group, Abe's Deli, Rock 107, Froggy 101, Cooper's Seafood House, Cugino's, DJ's, The Pennsylvania Anthracite Heritage Museum, Sal's Pizza, Crystal Soda, Montage Mountain, Rite Aid, Scranton Travel, The Lackawanna Coal Mine Tour, Brunetti's and The Mall at Steamtown.
Arthur Levandoski, Director of Marketing for The Mall at Steamtown, comments, "We felt an obligation to turn this opportunity into a memorable experience for as many of our neighbors as possible." To accomplish this goal, Longbotham Strategic Marketing was brought in to negotiate contracts, develop promotional partnerships and manage a series of appearances that included not only Rainn Wilson, but other celebrities as well.
Wilson's Sunday in Scranton begins at 10a.m. on December 17 with an invitation-only brunch hosted by The Greater Scranton Chamber of Commerce and sponsored by The Mall at Steamtown and Paper Magic Group. Following the brunch, Scranton Mayor Chris Doherty and Scranton Chamber President Austin Burke will accompany the star on a tour of Scranton. In the afternoon, Wilson will appear at The Mall at Steamtown's Center Court from 1p.m. to 3p.m. for a Question and Answer session, autograph-signing and photo opportunities.
_______________________________________________________
Click here to view a clipping of this article.