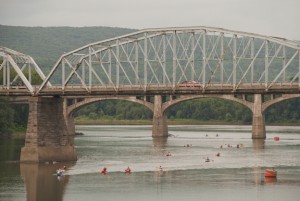 On behalf of The Bill Bursis Foundation for Spinal Cord Research, proceeds benefit The Miami Project to Cure Paralysis.
The "Up The River" Fundraising Celebration will be held Sunday, July 24, 2011, from 4:30 to 6:30P.M. at Cooper's Restaurant in Pittston, Pennsylvania.
$35/person – $50/family
Bill Bursis, a resident of Hawley, was struck down by a spinal cord injury over 20 years ago. Since that time, he has emerged as a leader in raising funds and awareness for Spinal Cord Research. Attorney Todd J. O'Malley is a founding Board Member of The Bill Bursis Foundation, which has raised well over $340,000 in the last 8 years. The foundation is affiliated with the Miami Project and all funds raised benefit their research endeavors.
This event celebrates a fundraising effort in which staff and friends of O'Malley & Langan depart, in canoes and kayaks, from the banks of the Susquehanna River, near their Towanda office, and trek down-river for four days. After "roughing it" along the banks of the river during their journey, they will arrive in Pittston, near their Pittston office, on Sunday the 24th at approximately 4:00P.M. Please join us in welcoming them home!
Your kind donations are tax-deductible and checks may be made payable to The Bill Bursis Foundation for Spinal Cord Research. Please come show your support. Together, we can make a difference!