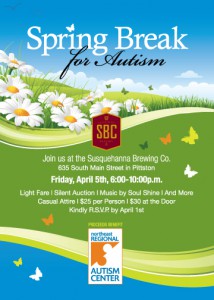 Once again, as in years past, the team at Longbotham was pleased to donate design services in support of this community fundraising event. To help raise awareness and promote attendance, we created the invitation package, the billboards and a series of newspaper advertisements.
The event will be held on Friday, April 5, 2013, from 6:00-10:00pm, at the Susquehanna Brewing Company, 635 South Main Street in Pittston, Pennsylvania. Guests will enjoy light fare, a silent auction and music by Soul Shine. Attire is casual. Tickets may be purchased in advance, for $25 per person, by calling (570) 342-8305, extension 2063. The night of the event, tickets will be available at the door for $30 per person.
Event sponsors include Lamar Advertising, The Times Leader, The Sunday Dispatch, Bartolai Winery, Bella Faccias, Cangiano's, El Rincon Latino, Longbotham Strategic Marketing, Metz Culinary Management, Oyster, Price Chopper, Quaker Steak and Lube, Red Robin, Schiff's, Stirna's and Truly Scrumptious.
All proceeds from "Spring Break for Autism" benefit The Northeast Regional Autism Center at Friendship House is staffed by individuals with extensive training in Applied Behavior Analysis. This team, while providing research-proven treatments and services, helps families empower individuals to be as personally and socially independent as possible. Treatment is based on the philosophy that individuals on the Autism Spectrum can be active, contributing members of society.
For more information about the Northeast Regional Autism Center, visit www.friendshiphousepa.org.