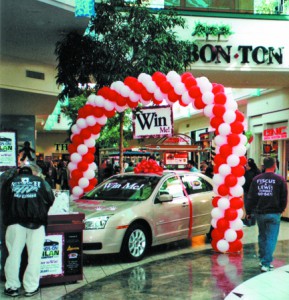 As published in a 2006 edition of The Abington Journal
By Christopher J. Hughes
Abington Journal Reporter
–
Christmas is barely upon us, but The Mall at Steamtown has started the season by unveiling their Holiday Package for 2006. From "Office" jockeys to some of the world's most famous monsters, Steamtown hopes to offer something for everyone.
"This season goes above and beyond anything that has ever happened at The Mall at Steamtown," said Mall Marketing Director Arthur Levandoski.
Several giveaways will deck the halls of The Mall at Steamtown. Winners of contests sponsored by radio stations 97.9X and 97BHT will receive a Ducati Sport Motorcycle and one carat diamond or a new Mercury Milan.
Among the many prizes offered to patrons this November and December is a $4,100 dining room set from Steier's Amish Country Store, 206 Depot Street in Clarks Summit. The hand-made primitive set includes a table, four chairs and a Hoosier hutch with a cutting board. The set will be awarded by random drawing on January 15, 2007.
Harry Steier, owner of Steier's Amish Country Store, said that he got involved in the holiday promotion because he wanted people to know about the Amish and their craftsmanship.
"This set will make the Christmas season a little nicer for someone in the area," Steier said. "I am very proud of the Amish people and the products they create. We should be so proud to have them in this state."
_______________________________________________________
Click here to view a clipping of this article.